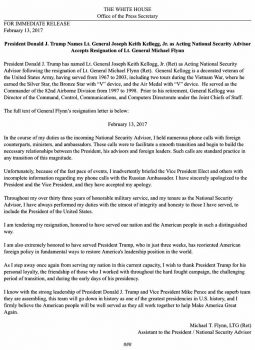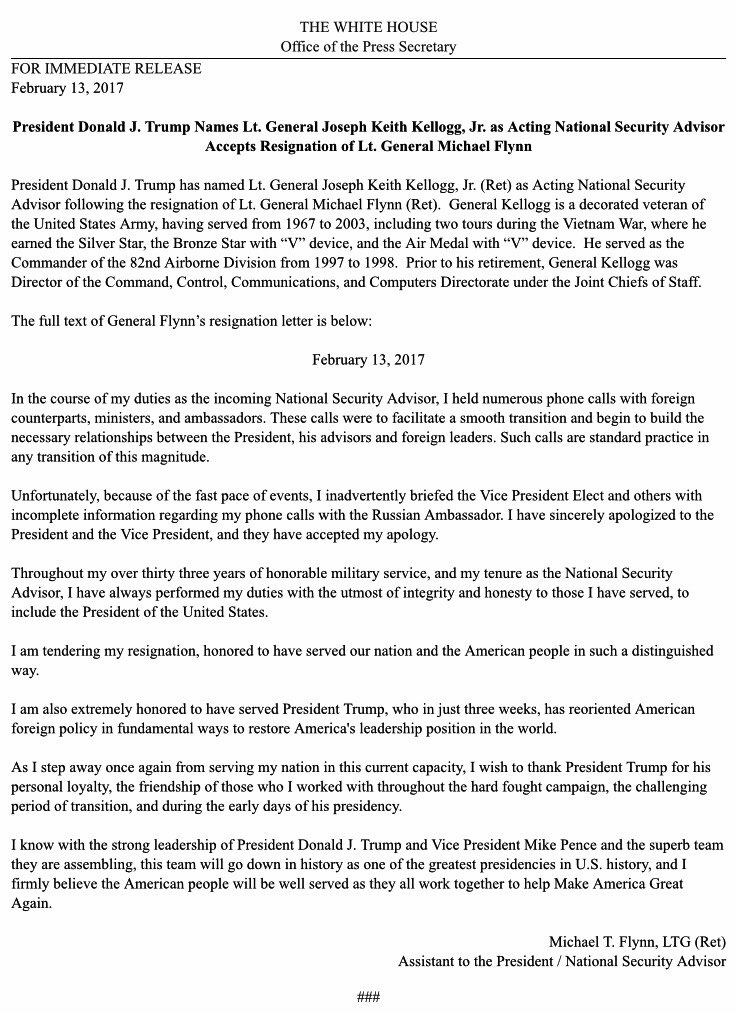 On February 13th, General Michael Flynn resigned as National Security Adviser to President Donald Trump over his phone talks with the Russian ambassador, according to the latest White House documents released. Media reports from leaked information accuse Flynn of allegedly discussing the U.S. sanctions with Russia before Donald Trump took office. He is said to have misled officials about his call with Russia's ambassador before his own appointment, BBC reported.
Under the law, private citizens cannot conduct US diplomacy. It is an illegal activity, BBC reported, citing U.S. code for Private correspondence with foreign governments.
"Any citizen of the United States, wherever he may be, who, without authority of the United States, directly or indirectly commences or carries on any correspondence or intercourse with any foreign government or any officer or agent thereof, with intent to influence the measures or conduct of any foreign government or of any officer or agent thereof, in relation to any disputes or controversies with the United States, or to defeat the measures of the United States, shall be fined under this title or imprisoned not more than three years, or both," according to the law.
Initially, Flynn denied having discussed sanctions with Ambassador Sergei Kislyak. According to other media reports, the White House had been warned by the justice department about Flynn misleading senior officials and being vulnerable to Russian blackmail.
Flynn, in his letter of resignation, said he had "inadvertently briefed the vice-president-elect and others with incomplete information regarding my phone calls with the Russian ambassador."
The White House announced that it has named Lt. Gen Joseph Keith Kellogg as Flynn's interim replacement.
Russian spokesman Dmitry Peskov said that the Kremlin does not want to comment on Flynn's resignation. "This is the internal affair of the Americans, the internal affair of the Trump administration," Peskov said. "It's nothing to do with us."
However, some Russian lawmakers have defended Flynn. Senator Alexei Pushkov said on Twitter that Flynn had been "forced to resign not because of his mistake but because of a full-fledged aggressive campaign". He tweeted that "Trump is the next target".
Flynn advocated for a softer policy on Russia. He was criticized by democrats and questioned were raised for his perceived closeness to Moscow. Senior Democrat Adam Schiff said that Flynn's departure would not end questions about contacts between Trump's election win and Russia. Congressional democrats John Conyers and Elijah Cummings want the justice department and FBI to give a classified briefing to Congress on Flynn.
"We in Congress need to know who authorized his actions, permitted them, and continued to let him have access to our most sensitive national security information despite knowing these risks," the democrats said in a statement.