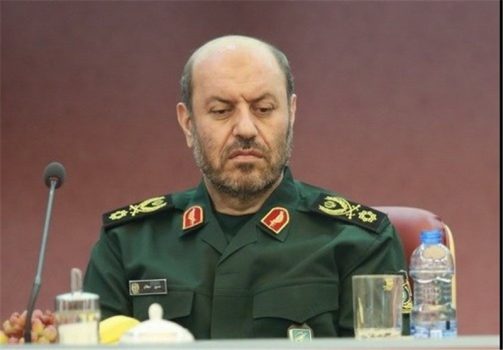 Iranian Defense Minister Brigadier General Hossein Dehqan confirmed reports that Iran successfully conducted a 'ballistic' missile test, Tasnim News Agency reported Feb. 2.
The defense minister said that the missile test was successful and does not violate the Joint Comprehensive Plan of Action (JCPOA) and the UNSC Resolution 2231.
However, U.S. officials criticized the missile test and claimed that Iran has violated JCPOA and the Resolution 2231. They also claimed that the test-fired Iranian ballistic missile exploded after traveling 630 miles (1,013 kilometers).
Dehqan did not say anything about the missile explosion. The Iranian defense minister, however, said that Iran will not allow the others to interfere in its defense affairs.
Meanwhile, 220 Iranian MPs recently issued a statement to voice their "full-fledged support" for the country's Armed Forces. In a prepared statement, they said that "reinforcement of the defense capabilities of the Islamic Republic of Iran in line with deterrence strategy" is essential to ensure the country's security.
Under the Resolution 2231, Iran cannot "undertake any activity related to ballistic missiles designed to be capable of delivering nuclear weapons."
However, Iran says that none of its missiles have been designed to carry nuclear warheads. It maintains that nuclear weapons have no place in the Islamic Republic's defense doctrine.
In response to the reports of Iran's missile test, Trump Administration has issued a statement, stating that Iran's recent actions including "a provocative ballistic missile launch" underscores its "destabilizing behavior across the Middle East."
"Recent Iranian actions, including a provocative ballistic missile launch and an attack against a Saudi naval vessel conducted by Iran-supported Houthi militants, underscore what should have been clear to the international community all along about Iran's destabilizing behavior across the Middle East," the White House said.
Houthi forces, which were trained by Iran, recently have struck Emirati and Saudi vessels and threatened U.S. and allied vessels transiting the Red Sea, according to the White House.
The White House criticized the Obama Administration for its failure to respond adequately to Iran's actions including weapons transfers, support for terrorism, and other violations of international norms.
President Trump called various agreements reached between Iran, the Obama Administration, and the United Nations "weak and ineffective."
The White House said that Trump condemns Iranian actions "that undermine security, prosperity, and stability throughout and beyond the Middle East and place American lives at risk."
"As of today, we are officially putting Iran on notice," the White House said Feb. 1.